---
Home - News - Where's Ed - Stories - Links - Email Ed - Guestbook - MySpace - Facebook - Goodreads
Where's Ed?
On this page are listed all the places where my work can be currently found. They fall into four categories: standalone works, anthologies, magazines and webzines. Under the first three you'll find details and links to purchase centres; the last will take you straight to the webzines for an instant read. And the best part is the webzines are free! Watch out for updates and new links coming soon.
STANDALONE WORKS . . .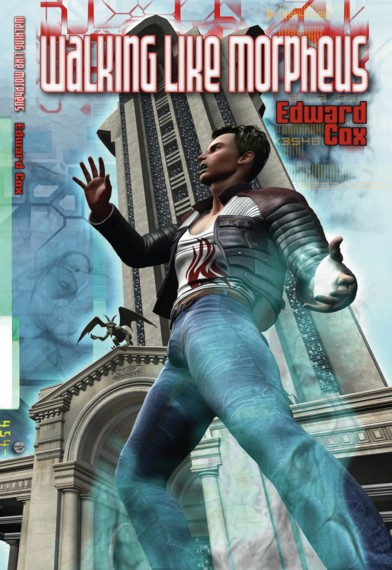 HYPNOS CORPORATION: the largest purveyor of dreamtime entertainment in the world. With a standard subscription you receive a state of the art isolation tank, and access to Hypnos' theta slipstream: a magical dream world that knows no bounds, where professional dreamers are waiting to help you become anything you want, and go anywhere you can imagine. And if you are really lucky, your dreams will be assigned to Aidan Morrish.
Aidan is the best dream guide Hypnos has to offer. Life for him is the life of a superstar. But being the best has a downside; jealousy is everywhere, and many want to ruin Aidan's reputation. So when his client inexplicably disappears mid-dream, Hypnos revokes Aidan's lucrative dream contract, and it seems his enemies have succeeded. Aidan knows he is being victimised, but when he sets out to prove his innocence, he discovers a secret that runs far deeper than the envy of his peers
WALKING LIKE MORPHEUS is a perfect bound novella published by Sam's Dot Publishing, and is now on sale at the GENRE MALL.
Cover design by Mitchell Davidson Bentley and Atomic Fly Studios.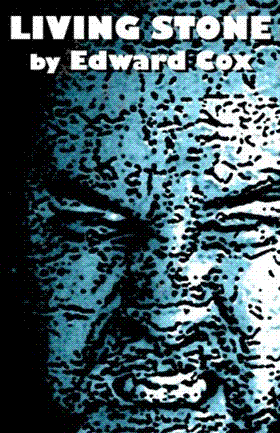 When stones fall from the sky . . .
Old Herne is terrorising Forest Gate, and the London police are stumped. For three months his victims have been found dead at the church down Cernunnos Lane, their bodies brutalised beyond recognition. Leading the investigation is Oscar. He is yet to uncover one single clue that reveals the killer's identity or his motives. He does, however, have the prestigious honour of being the only person to have seen Old Herne and lived . . . trouble is, Oscar can't remember what he saw, and now he has been kicked off the case.
However, Oscar isn't deterred. Dogged by nightmares and visions of shadowy monsters, he becomes obsessed in his pursuit of the killer and the truth behind his lost memories. But even he couldn't guess that Old Herne's origins hark back to the turn of the first millennium, and a legacy left by the man who dared to meddle with stones from the sky.
LIVING STONE is a perfect bound novella published by Sam's Dot Publishing, and is now on sale at the GENRE MALL.
ANTHOLOGIES . . .
July 2009...
WONDEROUS WEB WORLDS 8: the annual Sam's Dot Publishing anthology that collects the year's best poems and short stories that appeared in their numerous publications. Volume 8 is the best of 2008 (nice and neat, huh?), and has my short story Siren of Rain, which is about . . . well, rain, English rain to be precise, and why we get so darn much of it :)
A TIME TO...Vol 3: another best of anthology, this one collected from the short stories and poems that were published in Carol Hightshoe's webzine The Lorelei Signal during 2008 (again). My short story Poppy Seeds appears in volume 3, and this one is bitter vampire love story. A rare vampire story, in fact (I've only written 2 to date), and also it was the first story I wrote for my BA degree at university.
April 2009...
SHELTER OF DAYLIGHT #1: the brand spanking new anthology from Sam's Dot Publishing, and sister publication to the Cover of Darkness series. Issue 1 of S.O.D has my short story The Kings of Bran's Cauldron. This one is about the future of celebrity, clones, and how fads and fashions are trapped on the Mobius strip.
THE DRABBLER SPECIAL: Alien Sex Secrets - what you alien lover wants to do in bed. Stories of one hundred words exactly, remember? This one is bound to get you hot under the collar, and it's an immense amount of fun. My tiny tale Skin & Secrets is waiting for you inside the brown paper bag.
February 2008 - THE DRABBLER #10: Once again one of my tiny tales of exactly 100 word, which may or may not have a title of up to 15 words, had been selected for Terrie Leigh Relf's wonderful publication. The theme for the 10th Drabble Competition is "Haunted Spaceport" and my effort is entitled Celestial Necromancer at Phantom V: Renton Orbits the Derelict Spaceport with his Beautiful Sidekick, Kayla, which is about . . . well, I think you get the point . . .
July 2007 - THE DRABBLER #9: the last theme for this anothology of stories consisting of exactly 100 words with titles of up to 15 words was "What's on the Dark Side of the Moon" (take a breath) and has my little yarn The Unforeseen: Earth Receives A Letter Of Complaint After Historic Events During A Lunar Landing. The Drabblers are all in good fun and editor Terrie Relf always ensures they're well worth a read.
May 2007 - COVER OF DARKNESS: a collection of urban fantasy stories and poems, in which my tale Stealing From Prometheus can be found. This one is about modern day witchcraft and golems.
February 2007 - WONDROUS WEB WORLDS 6: the Wondrous Web Worlds anthologies are edited by J Alan Erwine, and form the yearly Best Of Issue collections from Sam's Dot Publishing's online magazines The Fifth Di..., The Martian Wave, and Aoife's Kiss. My science fiction/fantasy story Avatar won best short story of December 2005's Aoife's Kiss Online, and can be found in WWW 6 among other splendid short stories and poems.
December 2006 - APPALLING LIMERICKS: I was an assoaciate editor on this anthology, along with Karen L. Newman, under the guidance of cheif editor Scott Virtes. A couple of my limericks passed muster with my fellow editors, and can be found within. This is actually a collection of very funny limericks. A perfect stocking filler!
October 2006 - THE DRABBLER #6: for those of you not familiar with this writing form, I'll explain: a Drabble is a short story of exactly 100 words, no more, no less, with a title that can use up to 15 words. Drabbles are actually very cool stories and a lot of fun to read. Those groovy kids over at Sam's Dot Publishing hold a regular themed Drabble contest, and the winners, along with a select lucky few, have their efforts published in this ongoing anthology series. I was one of the lucky few, and my very tiny tale The Unbearable Destruction from the Fire of the Lost Son: Orphaned God of the World is ready to read in issue six.
MAGAZINES...
December 2009...
AOIFE'S KISS #31: the December 2009 edition holds three of my reviews: The Martian Women and Cloudburst by Tyree Campbell; Improbable Jane by s. c. Virtes; and Heroes Fall by Dylan Brody. This issue also has a story by the great Geoffrey A. Landis.
October 2009...
SHELTER OF DAYLIGHT #2: this issue has my novella The Lotus Eater, which was another piece written for my BA degree, for a module called Writing & Sexuality (or something like that - it was a long time ago now), so it's a bit spicy. A dark fantasy in every sense, I suppose :)
STAR*LINE: Issue 32.2 has my review of G.O. Clark's brilliant Mortician's Tea; and issue 32.3 has my review of Voyagers, edited by Mark Pirie and Tim Jones, and features some of New Zealand's finest Spec-Fic poets. Both chapbooks are most worthy of a place on any poetry lover's bookshelf.
SOUNDS OF THE NIGHT #5: issue five has my review of Tyree Campbell's latest Sci-Fi offering The Dice of God, for which, I'm happy to say, I was also a test reader. It's a lot of fun and an afternoon well spent. I was also an associate editor on this issue, though, to be truthful, I'm not sure how much help I was. Hey, I'm just glad to be here :)
April 2009...
ILLUMEN: a late edition this one. The Autumn 2008 #9 edition holds two of my reviews, though, I haven't received my contributor's copy yet, and embarrassingly, I can't for the life of me remember what reviews they are. Maybe I'll remember by next month... *hangs headin shame*
STAR*LINE: the Jan/Feb 2009 issue has my review of Brandy Schwan's poetry collection Catacombs & Photographs.
The Last of 2008...
AOIFE'S KISS: issue 27 has my little flash story Basket Love. This one is about love and the guillotine . . .
STAR*LINE: issues 31.3 and 31.4 have my reviews of Tom Galusha's Tarantula Stampede and Joselle Vanderhooft's brilliant Ossuary respectively. If you love spec-fic poetry, this magazine and both of these chapbooks are well worth checking out.
BEYOND CENTAURI: the October 2008 issue has my review of Marva Dasef's brilliant young adults Sci-Fi First Duty. Again, both magazine and novel are worth the money.
August 2008 - SOUNDS OF THE NIGHT: issue 3 has my long short story Joseph's Ghost (which was originally titled Welcoming Joseph Back but now ain't). This one is about isolation, abandonment and how a person can be ignored to the point where they become a living ghost, or in this case a succubus. Joseph's Ghost was originally written during my BA at university, for a module called Sexuality & Writing. The nature of this story makes it a little sexually explicit. Issue 3 of Sounds of the Night also has my reviews of Lorraine Pinelli Brown's novel The Puppets of Low Magic and JoSelle Vanderhooft's poetry collection The Handless Maiden and Other Tales Twice Told.
July 2008 - TALES OF THE TALISMAN: volume 4, issue 1, of David Lee Summers' fantastic SpecFic magazine has my short story The Trouble With Hiring Skips. This one is dedicated to my father-in-law, Norman, and concerns the marbre problems that come with skip hire, and may (or may not) be based upon true events. The story is accompanied by some same damn cool artwork, courtesy of Russell Morgan. And not only that, this issue of Talisman also has my review of Marge B. Simon's enigmatic Christina's World.
July 2008 - STAR*LINE: issue 31.2 of this great and long-lived Sci-Fi poetry mag, has my review of Jimmie Dickie's anthology Life in the Freezer.
March 2008 - STAR*LINE: issue Nov/Dec 2007 30.6 has my reviews of Derek Clendening's poetry collection Blood Verse: The Vampire as Poet and Marcie Lynn Tentchoff's Sometimes While Dreaming (although due to a teeny editorial mistake, the author is actually listed as G. O. Clark - but it's me really:). And in issue Jan/Feb 2008 31.1 is my review of Gary William Crawford's poetry chapbook The Phantom World. Star*Line is the journal of the Science Fiction Poetry Association, a magazine of Sci-Fi poetry. It's in its 31st year of publication now, and editor Marge Simon does a stunning job.
March 2008 - AOIFE'S KISS #24: a wonderful magazine of Speculative fiction and poetry.Iissue 24 has my reviews of Tyree Campbell's Tiptree Award nominated short story collection A Nice Girl Like You, and the final part of David Lee Summers' Old Star Saga Sci-Fi trilogy Heirs of the New Earth.
October 2007 - ILLUMEN #7: magazine of speculative poetry. Issue 7 has my reviews of Steve Sneyd's Ahasuerus on Mars, Susan M Sailors' Fair Warning, and Bryan Thao Worra's masterpiece On the Other Side of the Eye.
Pre October 2006 -
HUNGUR #2: has my article on the furture of Vampire Fiction, For the Dead Move Fast. This magazine endorses Vampire SciFi, and is one of the most interesting publications in the vampire genre. Well worth a buy.
ILLUMEN #4: has my review of Gavin Salisbury's brilliant epic poem Europa. If you like Speculative Poetry, then Illumen is the magazine for you.
BEYOND CENTAURI: SpecFic magazine aimed for 9-15 year olds, and kids of all ages. Issue 11 has my flash fiction story The Watch. This one is about a guy called Frederick who finds H. G. Wells' pocket watch and hidden instructions for building a time machine.
AOIFE'S KISS: a magazine of Science Fiction, Fantasy and Horror, firmly established and good to read. In issue 12 you'll find my short story Receiving Minos. This tale is a SciFi/Fantasy about time travel and the Minotaur myth.
BEYOND CENTAURI: a great magazine aimed at 9-15 year olds, and enjoyed by kids and adults alike. Issue 10 has my Mother of Pearls short story, about dragons and growing up.
ILLUMEN: the magazine of speculative poetry. Inside issue 1 is hiding my poem A Chin Like Wincey's, and, for a bonus point, my article on speculative poetry, The Chance to Tell a Story.
SHIMMER: a short story magazine that looks as great as it reads, and is currently receiving critical acclaim. In issue 1 is my tale Nobody's Fool, which is best described in this review by Paul Abbamondi at Tangent This story received an honourable mention in Vol. 19 of The Year's Best Fantasy and Horror anthology.
UPDATE: the print version of issue 1 has now sold out. However, the electronic edition is still available to purchase at the Shimmer website, linked above.
WEBZINES...
May 2008 - WRITE OFF: a new story of mine has just gone up - actually it's an old story of mine that's just taken a long time to get published. The story is called Numb, and it's a horror story. Over the past few years, I've lovingly come to think of Numb as my jinxed story. Trust me, this tale has a trail of destruction behind it. To date, it got accepted by 5 different magazines and webzines, all of which collapsed shortly after accepting it. Numb curses magazines, it kills them, and eats them right up, and then daps the corners of its mouth with a napkin afterwards. But so far Write Off has the perfect counter spell. Let's hope Allison survives too. Read it at your own risk...
March 2008 - AOIFE'S KISS ONLINE: click on over to read my reviews of Tyree Campbell's A Nice Girl Like You and David Lee Summers' Heirs of the New Earth.
October 2007 - LORELEI SIGNAL: The autumn issue of this SpecFic webzine devoted to strong female characters, is showing my flash fiction story "Listen", a mobius tale that explores our purpose on the planet. It comes with some pretty cool artwork courtesy of the wonderful Marge Simon.
July 2007 - WRITE OFF: a webzine run for and by readers and writers. The chief editor, Allison Boast, is an old university chum of mine and doing a fine job at Write Off. She has just published my short story Spiral's End. This was written for a university module called Writing & Sexuality. It's unlike anything I've written before or will likely write again. Dark fantasy, erotic horror, I'm not certain what catagory Spiral's End falls into, but it is a study of gratuitousness, and should NOT be read by anyone easily offended. You have been warned . . .
Pre October 2006 -
MA:Zine: Issue 6 has a piece of my experimental writing, a short story entitled Blue Shoes & Sawdust. Everything in this story, from plot and location to characters and style, was decided by the rolls of a twenty-sided die. It's a bit hectic, but was lots of fun to write. Click on the prompt for #6 and then look in the "none of the above" section.
WHISPERS OF WICKEDNESS: one of my favourite webzines, and housing three of my flash fiction stories: Selective Purgotory, Habitual Darkness and By Proxy. Just scroll down the list of titles in the 'wicked stories' link until you see my name.
AS EDITOR...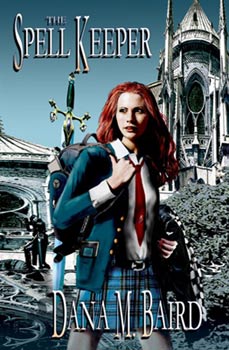 In the land of Tevious, the people are suffering under the occupation of Trevarre, a foppish warlord-sorcerer with an undead army, and his accomplice Rangael, a corrupt High Priest with a lust for power. The Tevians' only hope is the Spell Keeper, a hero who will come to overthrow the evil regime, reawaken the dormant currents of sorcery, and restore peace to their small country. They are surprised when they get Cassie, a fifteen-year-old from Illinois — but not as surprised as she is. With no way home, Cassie joins a rebellion led by an irreverent wise-woman, a former highwayman, and a healer with an important secret. Cassie must use her wits as well as her newfound powers to challenge Trevarre, discovering in the process that her lineage is somehow linked to the troubled land. She is potentially the most powerful sorceress that has ever lived. But her adversary can turn people inside out with a thought…

The Spell Keeper by Dana M. Baird is available now at THE GENRE MALL
Cover art by Laura Givens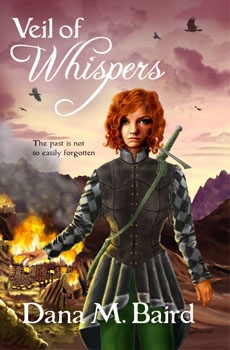 Veil of Whispers is the second novel in The Spell Keeper Legends. In the city of Burken there are those still loyal to the former regime that terrorized the country for years. Now, with the city's two largest celebrations approaching, citizens are disappearing from the streets. There are rumors of a growing cult, intent on the destruction of the city and the Crown itself. It all starts with a boat ablaze on a flooding river . . . and two apprentices who find a mysterious survivor. But the cult hasn't reckoned on Cassie, the keeper of the spells. She's back: older, wiser, and hotter! And she has a sword that says so! Remember the old saying about the manure and the wind farm? In Veil of Whispers, they're about to collide.
Veil of Whispers by Dana M. Baird is available now at THE GENRE MALL
Cover art by Eric Clark
---